SUNDAY MORNINGS
7th-12th Grade | 11 am | Attic
WEDNESDAY NIGHTS
7th-12th Grade | 6:30-8:15pm |Gym

We Love You | God Loves You
Whoever you are, wherever you're from, you are welcome here.
At Salem Students, we believe that we were created on purpose, with purpose. We exist to help 7th-12th grade students experience the love of Jesus, discover God's call on their lives and GO LOVE others with the love of Christ. Food, games, worship, relationships, are all centered around learning more about God and how He is interacting in our lives. Check it out!

Parents, want to hear about all that is happening in Student Ministries?
Contact students@salemchurch.org to sign-up for the frequent parent updates. Connect with Salem Students on facebook and instagram or text 'STUMIN' to 937-230-7722.
Ohio State Youth Convention
November 12-14 | Maiden Lane Church of God
Cost: $165 (registration, transportation, hotel)
This event has always made tremendous impact in the lives of our students. We understand that cost can be a difficult barrier to overcome. If this is a concern for you, PLEASE reach out and let us know. We will be happy to help in any way that we can to make sure that every student who wants to attend is able to do so.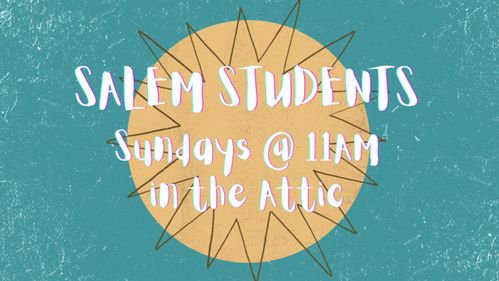 7th-12th Grade
Sundays | 11 a.m. | Attic
Wednesdays | 6:30-8:15 | Gym


Oct. 27 | 6:30-8:15 p.m.
@ The Pond Shelter
Follow Salem Students on Social
Get Connected. Go Deeper.
At Salem Students , we believe in doing life together over alone. Small groups are a great way to engage in authentic community, build mentoring relationships, and to process what God is doing in your life! Typically, we meet in small groups weekly following each message. Groups also meet regularly throughout the month to share a meal or have a party! Not sure how you feel? Click below to speak to a Small Group
One of the best ways we can live out our faith is to get involved with serving! If you're a student and you're interested in becoming a part of the Worship or Student Leadership team click below to get involved!